DNX4230DAB
6.1" WVGA 2DIN Navigation System with Bluetooth & DAB-Tuner Built-in
Variable Colour illumination

DAB+ tuner built-in

Made for iPod & iPhone *

Equalizer

Built-in Bluetooth

Navigation unit built-in

Touch Panel

High Resolution VGA Display

OEM Wired Remote Control ready
---
Designed for the Crafter
Kenwood's DNX4230DAB Multimedia system includes Garmin's European navigation, 7-digit postcode entry and built-in TMC (Traffic avoidance). A 6" high-resolution screen shows directions, track listings and a whole wealth of information very clearly. It offers multiple levels of connectivity, making it simple to talk hands-free or use your favourite music player.
Volkswagen Commercial Vehicles Fitment

---

Vehicle Models

Year

VW Commercial Vehicles Part No

---

Crafter (D Chassis)
2012 >
ZGB 2E0 051 004
Crafter (E Chassis)
2003 >
ZGB 2E0 051 004
Crafter (F Chassis)
2014 >
ZGB 2E0 051 004
► Click on an icon below to find out more on these features, or simply scroll down
Key Features
- 6" High resolution touch control display
- Garmin European navigation
- Built-in TMC (traffic avoidance)
- Lane Assist
- Built-in Bluetooth hands-free calling (HFP)
- Bluetooth Music streaming (A2DP)
- Smartphone voice calling recognition control


- DAB/DAB+ tuner built-in
- FM/LW/MW radio receiver
- iPod/iPhone audio/video playback and charging
- USB device playback
- CD/DVD/MP3/WMA/AAC playback
- Variable colour illumination to match dashboard ighting
- Reversing camera option
The Crafter multimedia system comes complete with full fitting kit and steering wheel control interface from your local Volkswagen Commercial Vehicle retailers.
---
Thanks to the 6" wide high-resolution display, the keys, icons, navigation map and DVD images appear much clearer and sharper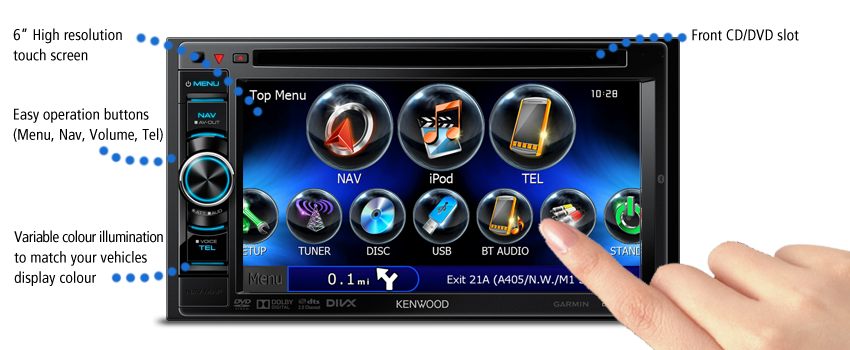 ---
Just press the "Where To?" key to begin searching for your destination and then choose from six different search modes:

- Address (including 7 digit Postcode search)
- Go Home
- Favourites (your favourite stored locations)
- Points of Interest POI's e.g Petrol Stations, ATMS
- Recently Found (up to 50 previously searched locations


TTS function reads out not only directions, but also the street names during voice guidance when making a turn. This function is compatible with 9 Languages including English, Dutch, French, German, Italian, Norwegian, Portuguese, Spanish and Swedish.
POI's (Points of Interest)
Over 2 million POIs are installed as standard in the navigation. These cover; ATMs/Banks, Food/Restaurants, Superstores, Sports Venues, Hotels, Petrol Station, Motorway Services and much more. Customised POIs can be added at your discretion including Safety Camera Database.

Safety Camera Database
You can add a safety camera database to the system. Download the PDF here for details of how and what you need to do.
NB: These instructions suggest the use of third party software and database. Kenwood Electronics UK Ltd does not support, or accept liability for, this software.
This database is provided by Pocket GPS World which requires a yearly subscription fee and updates are available approximately every month.
In some countries the use of safety camera's are prohibited please check the legality of using any safety camera database in each country beforehand.
Lane Assist
This feature guides you to the correct lane for navigation, avoiding confusion on the motorway and multi-lane junctions.
---
DAB offers playback of hundreds of radio stations at the touch of a button. At last there is a station for all tastes --Sport -Jazz --rock even if you're a child of the 60/70/80ties there is a home for you ! The easy-search system makes finding the right station quick, and once tuned in the latest technology means that listening to digital radio on the move is free of annoying breaks and distortion.
With this system you can get your favourite FM/AM stations on digital, as well as lots of digital-only stations. Digital radio has something for everyone.
Search for a DAB Station

Kenwood have included an easy ABC service search which has swipe graphic control. This list is automatically populated at first unit power on.

There is a list refresh button for when you venture out of your home service area and want to refresh this listing.
Following a station selection you can choose to return to the main station display screen with full information read-out.

Digital Radio Features:

• 15 presets (5 Ch x 3 band)
• Alphabet station search
• DAB – DAB+ / DAB - FM auto switch
• DLS (Dynamic Label) - Scrolling station info
• PTY Search - Search by type News, Sports etc

The system also has FM/LW/MW for those stations which are not available yet via Digital Radio.
---
Equipped with built-in Bluetooth capability to enable hands-free mobile phone operation so you can keep your hands on the steering wheel where they belong and concentrate on the road ahead.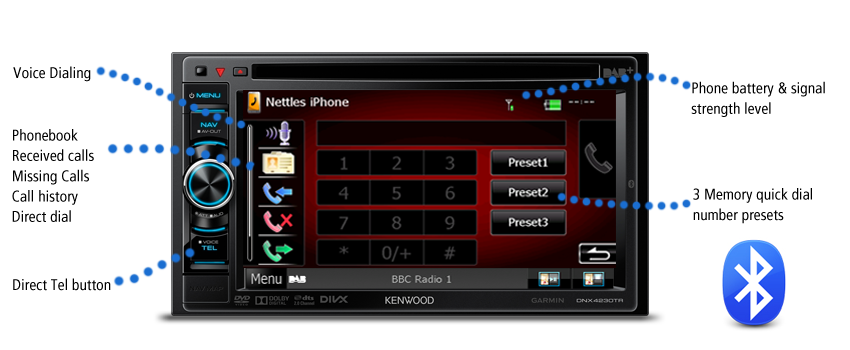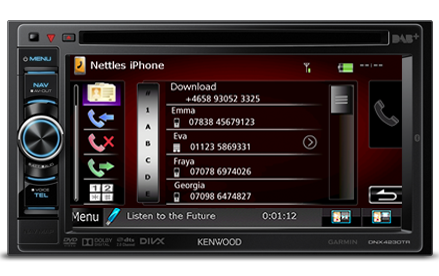 Your phonebook list is displayed for selection and previous call logs can also be used. Whilst on the move you can select one of the preset telephone numbers for quick dial or use the phonebook feature. Incoming caller number or name is also displayed before you allow connection or set the unit to automatically connect after a few rings.
- Voice dialing using the smartphones feature

- Bluetooth music streaming

- Automatic incoming call answering function

- Making calls from phonebook.

- Making calls from incoming/outgoing call history

- Direct dial function / Private talk function

- Call interrupt indication

- Remaining battery indication

- Phone registration (Up to 5 phones)

- Phone selection / Phonebook download from phone

- Audio control from remote

- Supplied with microphone (3M long)
Voice Dialing
The system will allow the voice dialing feature found on most smartphones to work through Bluetooth.
This features depends on the capabilities of your particular smartphone.
Music Streaming
Easily stream music from your phone or other Bluetooth devices directly to the system. Functions such as track name display and track back and forwards are also available.
---
Searching for music or a movie title is easy via the touch panel. In addition to conventional searches for playlists, artists, albums and genres, additional search commands can also be performed for music videos, TV shows, movies, video playlists, etc.
NB: Video playback is only available when the handbrake is applied. When using iPhone5/5C/5S/6/6+ due to the phones capabilities it is not possible to playback videos.
Optional iPod/iPhone lead required via your vehicle retailer.
Portable memory devices make it possible to create and store compilations of your favourite music and bring them into the car for easy connection and playback via the USB (Universal Serial Bus).
Searching for a track, album, artist or playlist is possible by using the category list function.
Compatible File Formats:
JPEG, MP3, WMA, WVA, AAC, WMV