DAB+ tuner built-in

Detachable Faceplate

Made for iPod & iPhone *

Variable color illumination

OEM Wired Remote Control ready
---
Key Features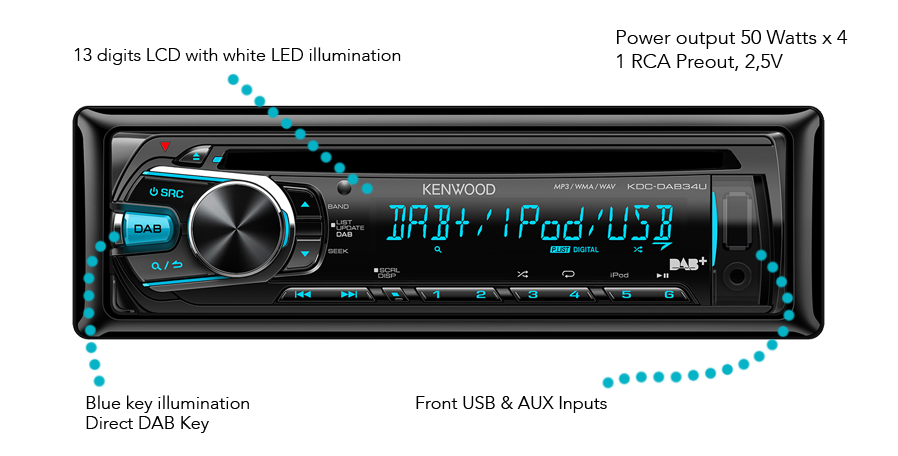 ---
Built-in DAB/+ Tuner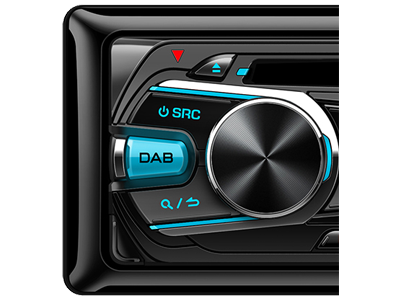 DAB is a digital radio technology for broadcasting radio stations, used in various countries particularly in Europe. In comparison to traditional AM and FM radios, DAB delivers cleaner, crisper sound due to the noise reduction implemented. Furthermore an upgraded DAB+ was released in 2007, which features a higher audio quality and better reception. Kenwood's built-in DAB+ receivers are maximised in design, top-end performance and affordability.
Using the latest digital chip set means listening to digital radio on the move is free of annoying breaks and distortion. Clever technology will even switch from DAB to FM (and back again) if there is a local signal problem.
---
FM/AM Tuner
A high quality FM/AM tuner with Presets (18 DAB / 18 FM / 3 AM). Mixed Preset Memory is also available which enables stations with a different band (DAB/FM/AM) can be memorised to the [1] - [6] buttons according to the setting of "Preset Type". The tuner comes with a traffic interruption option and radio data system.

---
USB/AUX Front Inputs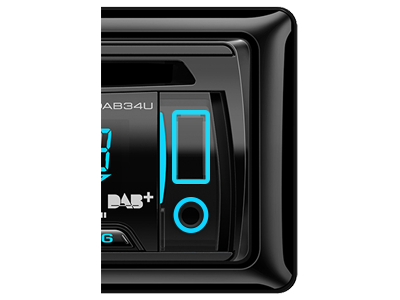 For convenient connection to your portable music device via USB or AUX input.
Portable USB devices or sticks make it possible to create and store compilations of your favourite music and bring them into the car for easy connection and playback via the USB (Universal Serial Bus). Compatible formats for USB are: MP3, WMA and WAV. The USB input includes a fast charging power supply.
They can even display tag information, provided the files are not protected by DRM (Digital Rights Management).
The terminal is on the front of the unit and has a sliding illuminated cover to avoid dust and ensure more secure connection.
---
CD Playback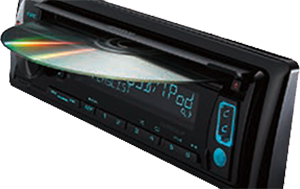 The included CD player can also playback home recorded MP3/WMA discs.
Playback track features:
Random Function (Track), Repeat Function (Track/Disc) and Scan Function (Track/Disc).
---
Variable Colour Illumination
With the KDC-DAB34U you can select a preset colour or create your own to match the dashboard lighting or your mood of the day.

---
Removal Front Panel
To help protect your desirable new in-car receiver the complete control panel can be easily removed and stored away from the vehicle.