DRV-A301W
Full HD DashCam with Wreless LAN & GPS
SEAT Part No: ZGB 000 052 301 (DRV-A301W)
- Includes: 16GB micro SD card, Mounting Brackets (Suction & Adhesive), Cigar Lighter Adapter Cable
- Optional Pro Pack fitting kit for Smart Parking Mode SEAT Part No: ZGB 000 052 PRK (CA-DR1030)
Find your nearest SEAT Dealer
Where to Buy
HDR record enhancement

Wireless LAN & App Link

Built-in GPS Receiver

Parking surveillance mode

G-Sensor Built-in

Magnetic quick release mount

LCD screen
---
2.7" Full Colour LCD Touch screen with Built-in Wireless LAN, Full HD Dash Cam - Optional Smart Parking Mode when installed with Pro Pack Fitting Kit SEAT Part No: ZGB 000 052 PRK (CA-DR1030)

---
HDR (High Dynamic Range) - Reducing " Blown out Highlights" and "Crushed Blacks"
HDR helps to reduce "blown out highlights" and "crushed blacks" and ensure clear images in challenging environments, including backlit scenes in daylight, streetlight scenes at night and places where light-dark contrast is particularly severe, such as at tunnel entrances/exits.

---
Wireless Smartphone Link

The KENWOOD DASH CAM MANAGER app allows you to easily change the menu settings of your dash cam and browse through recorded videos as well as real-time live view from your smartphone in an intuitive way. By downloading the video / photo files into your smartphone, you can even review them while routing on Google Maps™ with the GPS information such as speed, G-sensor and distance, and edit the videos to share them on social media. Download the app from App Store (iOS) or Google Play (Android™) on your smartphone.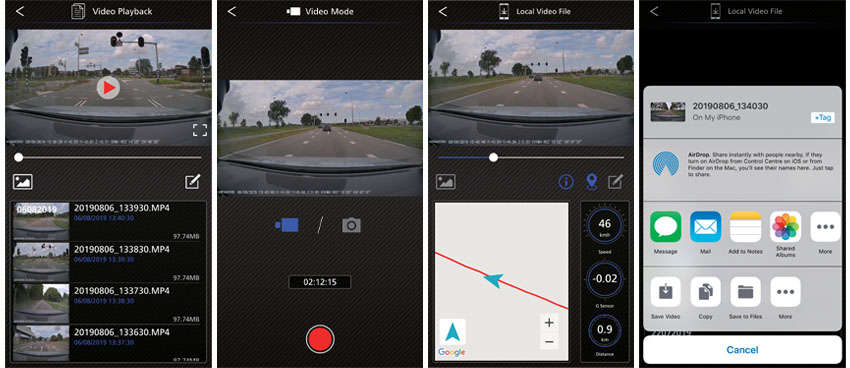 The desktop software "KENWOOD VIDEO PLAYER" is available for displaying video recorded with the device. You can also play back, edit and share the videos on your PC. Download the installer from https://www.kenwood.com/cs/ce/, and install the software according to the on-screen instructions.
---
Quick Release Magnetic Mount

The patent-designed magnetic mount, unlike the traditional mounts which use a latching mechanism, allows you to place and remove the device simply and instantly. No cable to connect or disconnect from the dash cam.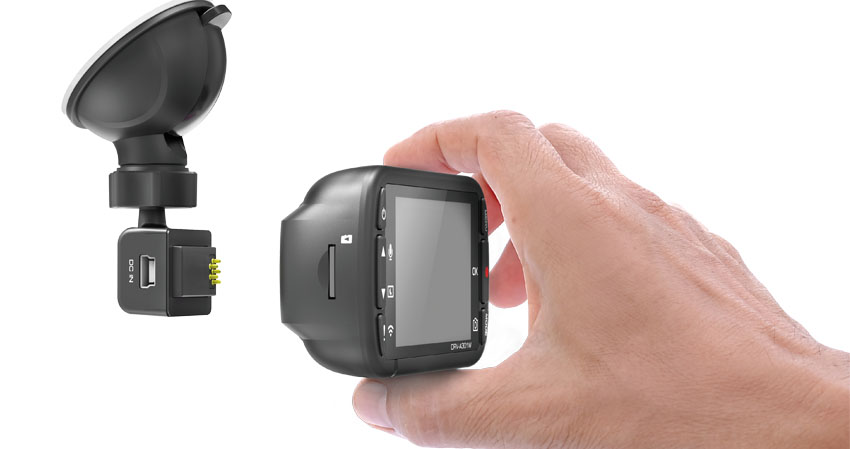 ---
2 Ways to Mount
A suction-cup and an adhesive mount are included in the package. The suction mount makes it easier to attach and detach from the windshield while the adhesive mount provides more solid support for the camera.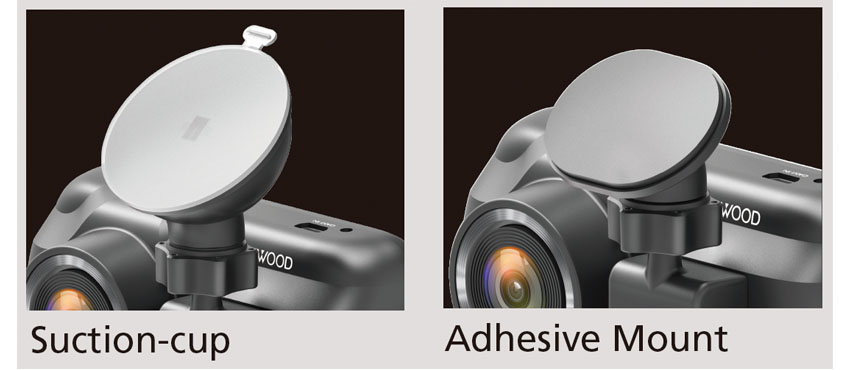 ---
3-axis G Sensor & GPS Receiver

The built-in 3-axis G Sensor with adjustable sensitivity detects an outside force, forcing the device to save what has just been recorded. In addition, the GPS Receiver allows your videos to add location and speed data.

---
Micro SDXC/SDHC Card (Included with the SEAT Part No: VW ZGB 000 052 301 (DRV-A301W) - 16GB SDXC Card)

You can use a card from 8GB up-to 256GB (Class 10). The below recording times are the totals (maximums) for continuous recordings, manual recordings, event recordings and parking recordings. The recording times are estimates. They may become shorter depending on the recording scene.
Recording Times
Recording Quality (at Default Settings)
Full HD (1920 x 1080p)
microSD Card Capacity
8GB
60 minutes
16GB
120 minutes
32GB
240 minutes
64GB
480 minutes
128GB
960 minutes
256GB
1920 minutes
---
Optional Pro Pack Fitting Kit SEATs Part No: ZGB 000 052 PRK (CA-DR1030) - for Smart Parking Mode
Your SEAT Dealership can fit the 4m long cable which can be easily tuck discreetly and hide the car power cable into the headliner and activates the Smart Parking Mode.
When your vehicle is parked and turned off, the Smart Parking Mode becomes active. If your vehicle is subject to a collision or other physical impacts, your dash cam powers on thanks to the built-in G-Sensor and automatically records 30 seconds of video. This optional fitting kit is required for permanent power to activate the Smart Parking Mode Volkswagen Commercial Vehicles Part No: ZGB 000 052 PRK (CA-DR1030).