DMX7017DABS
7.0" AV-Receiver with Bluetooth, DAB+ Radio & Smartphone Control
► Dash Cam link with the DRV-N520. Display and control the dashboard camera via the DNX9180DABS.
Find your nearest Approved Kenwood Centre
Where to Buy
Variable Colour illumination

DAB+ tuner built-in

Made for iPod & iPhone *

High Resolution VGA Display

2 Zone Control

Spectrum Analyzer

Top Menu Customize

Built-in Bluetooth

Touch Panel

Works with Apple CarPlay

Works with Android Auto

Rear View Camera Input
DMX7017DABS - 7" Touch screen with Apple CarPlay, Android Auto, Spotify Direct Control, DAB/FM/MW/LW Radio, Bluetooth hands-free calling and music streaming, iPod/iPhone music playback and USB

EISA In-Car Headunit 2017-2018 KENWOOD DMX7017DABS

Offering way more features than it has any right to at the price, this head unit boasts Bluetooth connectivity for wireless audio streaming and handsfree calls alongside Android Auto and Apple CarPlay for easy smartphone operation. Your choice of music comes via either the DAB+ digital radio receiver or streaming using Spotify Connect. It can play your own hi-res FLAC files too. Voice control ensures the driver can keep their hands on the wheel while flicking through their favorite tracks, and with additional upgrade options including a compatible dashcam and rear camera the DMX7017DABS has all bases covered.

5 stars for Kenwood DMX7017DABS
in Auto Express

Read what Auto Express had to say about the DMX7017DABS here

Watch the DMX7017DABS in action and see the optional extra DRV-N520 dashcam linkage in the movie below

7" Resolution Touch Screen Control
Thanks to the 7" wide high-resolution display, the keys, and icons appear much clearer and sharper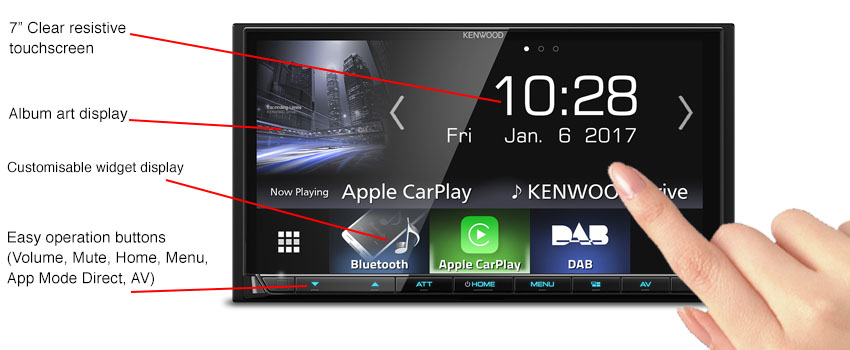 ► Apple CarPlay and Kenwood
Apple's CarPlay is the smart and safe in-vehicle interface to operate your iPhone 5 and upwards, and the experience is taken to another level. Plug in your iPhone via your genuine Apple white USB lead and simply talk to Siri, or touch the receiver's display and get directions from Apple Maps, make phone calls, listen to voicemail, send and receive texts, listen to your music library, Apple Music and additional apps like Spotify, Amazon Music and WhatsApp all in away that allows you to stay focused on the road. Want to find out more about Apple CarPlay? Click here for more details.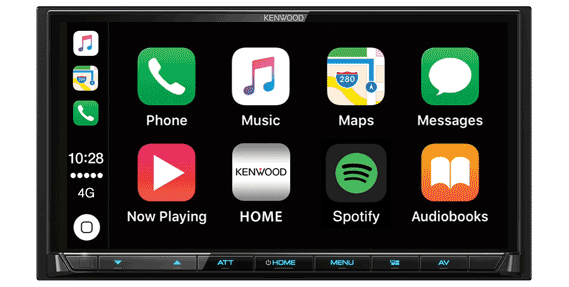 Android Auto and Kenwood
Android Auto is designed with safety in mind, helping you to minimise distractions and stay focused on the road. Simply connect your Android smartphone using the phones USB lead and access Google Maps, phone calls, messages, Google Play Music and additional apps like Spotify and Waze. Making it the perfect complement for your in-car life. To use Android Auto, you need an Android smartphone running 5.0 (Lollipop) or higher. Want to find out more about Android Auto? Click here for more details.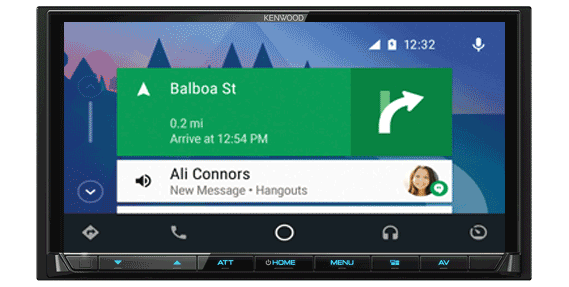 ►

DRV-N520 Navigation Linkage DashCam

Touch Control
Recorded videos can be displayed on the large screen, and operated from the touch panel.

GPS Function
By linking with the head unit, more accurate location information is sent from the head unit and stored on the dashboard camera.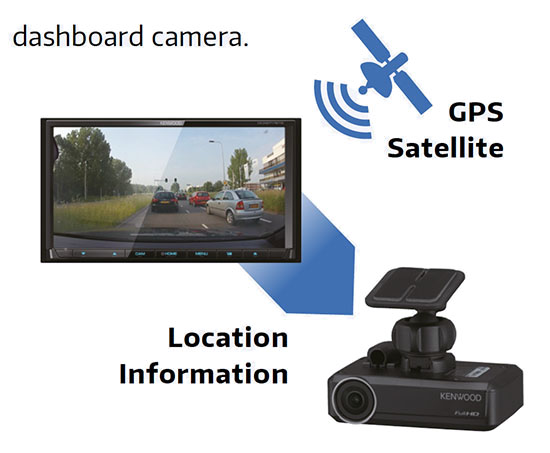 Safety Alert
DRV-N520 is equipped with the safety alert function. Dangerous situations such as lane departure or forward collision are detected and a beep sound and caution pop-up is displayed on the DMX7017DABS.


►

Spotify on Apple CarPlay / Android Auto and Kenwood Direct Control
Access all your favourite music or browse Spotify's vast catalogue on the move using either CarPlay, Android Auto or Kenwood's Spotify direct control. Both album art and artist details are displayed on our large clear touch screen display.
All you need is Spotify's app on your iPhone or Android smartphone and away you go!