DMX8019DABS
7.0" WVGA Digital Media AV-Receiver with Smartphone Control, DAB+ radio & Wifi Built-in.
PLEASE NOTE THAT THIS SYSTEM DOES NOT PLAYBACK CD/DVD
► Dash Cam link with the DRV-N520. Display and control the dashboard camera via the DMX8019DABS .
Find your nearest Approved Kenwood Centre
Where to Buy
Works with Apple CarPlay

DAB+ tuner built-in

Built-in Bluetooth

Touch Panel

Made for iPod & iPhone *

2 phones fulltime connection

KENWOOD Music Mix Support

Works with Android Auto

OEM Wired Remote Control ready

Variable Colour illumination

HDMI input

2 Zone Control

Spectrum Analyzer

Top Menu Customize

Wireless Mirroring for Android

R-CAM Parking Guide Lines
Get Wireless CarPlay for your car.
Also features Android Auto, Spotify Direct Control & DAB Radio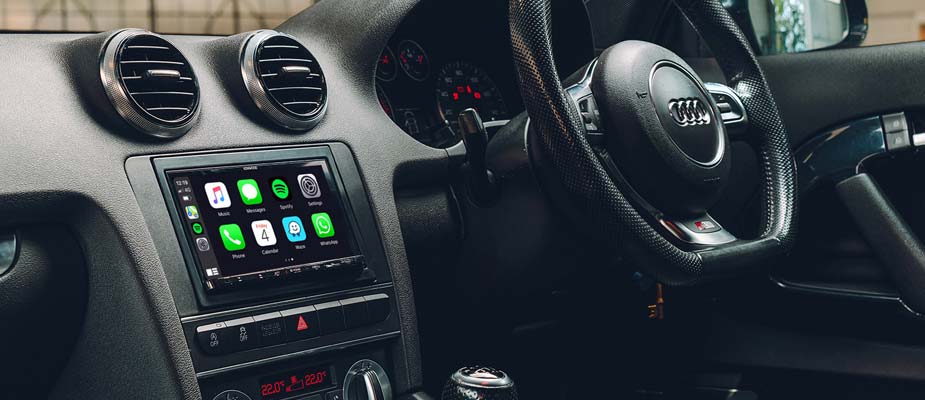 Watch the DMX8019DABS in action and see the optional extra
DRV-N520 dashcam linkage in the movie below
DMX8019DABS - Main Features:
► Wireless Apple CarPlay (iPhone 5 upwards)
► Wireless Android mirroring (Android phone running 5.0 (Lollipop) to 9.0 (Pie))
► Wired Apple CarPlay (iPhone 5 upwards)
► Wired Android Auto (Android phone running 5.0 (Lollipop) or higher)
► 7" capacitive touch screen
► Bluetooth hands-free calling & music streaming
► DAB/FM/MW tuner
► Spotify direct control
► iPhone-iPod music playback
► USB connectivity
► 3 Camera inputs (Front, rear, dash cam options)

Please note that this system does NOT have integrated navigation or CD/DVD playback.
Navigation is available via CarPlay = Apple Maps, Waze or Google Maps. Android Auto = Google Maps or Waze.

Wireless or Wired Apple CarPlay and Kenwood
---

Apple's CarPlay is the smart and safe in-vehicle interface to operate your iPhone 5 and upwards, and the experience is taken to another level. Either connect wirelessly or plug in your iPhone via your genuine Apple white USB lead and simply talk to Siri, or touch the receiver's display and get directions from Apple Maps Waze or Goggle Maps. Make phone calls, listen to voicemail, send and receive texts, WhatsApp messages, listen to your music library, Apple Music and additional apps like Spotify, Amazon Music and Deezer all in away that allows you to stay focused on the road.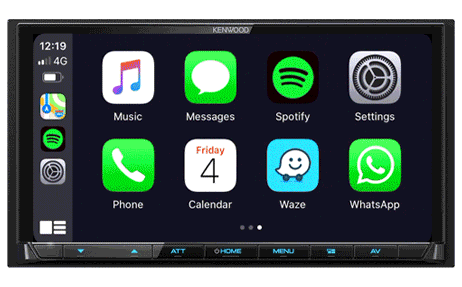 Wired Android Auto and Kenwood
---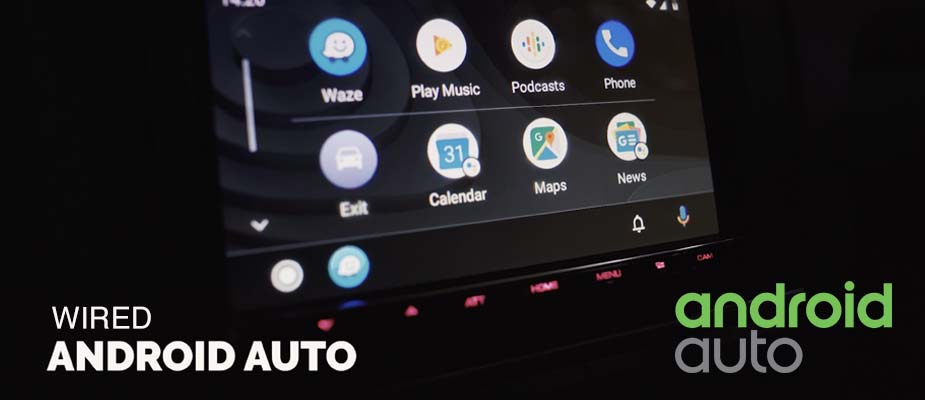 Android Auto is designed with safety in mind, helping you to minimise distractions and stay focused on the road. Simply connect your Android smartphone using the phones USB lead and access Google Maps, Waze, phone calls, messages, Google Play Music and additional apps like Spotify, Amazon Music. Making it the perfect complement for your in-car life. To use Android Auto, you need an Android smartphone running 5.0 (Lollipop) or higher.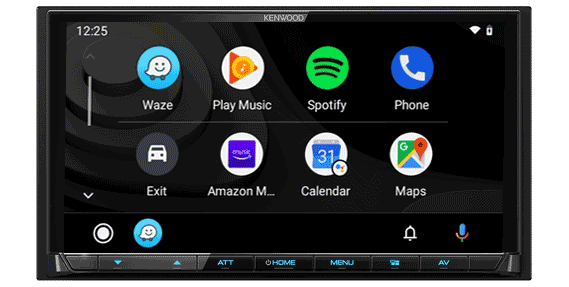 Wireless Android Smartphone Mirroring - (Android phone running 5.0 (Lollipop) to 9.0 (Pie))
---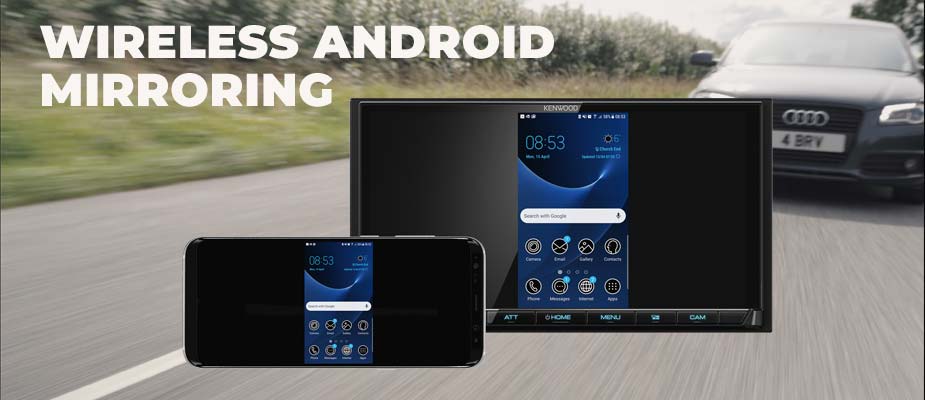 Compatible Android smartphones (Running 5.0 (Lollipop) to 9.0 (Pie)) can transfer their screen output wirelessly to our DMX8019DABS multimedia system via screen mirroring*.
*Driving regulations apply. This feature will only work when the handbrake has been applied.
7" Capacitive Touch Screen Control
---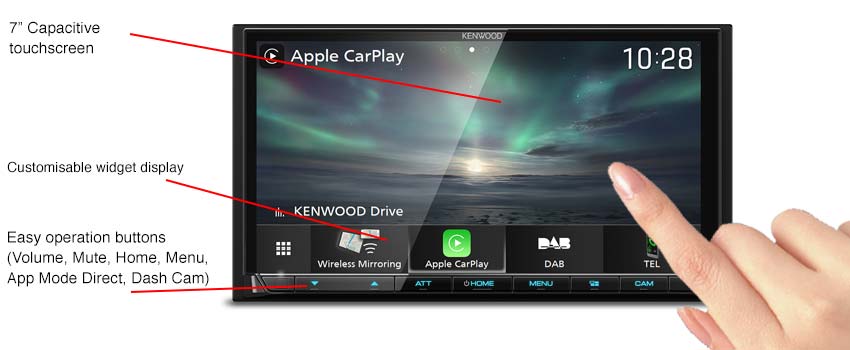 DRV-N520 Optional Linkage DashCam
---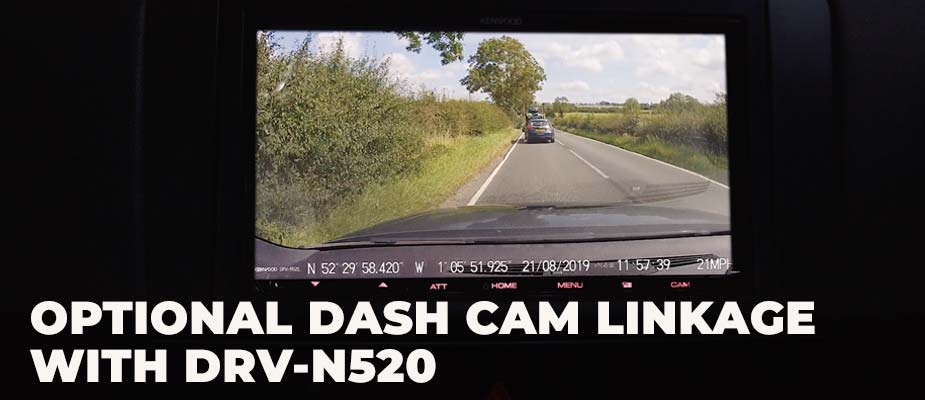 Touch Control
Recorded videos can be displayed on the large screen, and operated from the touch panel.

Safety Alert
DRV-N520 is equipped with the safety alert function. Dangerous situations such as lane departure or forward collision are detected and a beep sound and caution pop-up is displayed on the DMX7017DABS.

---